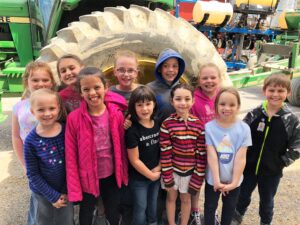 Would you like your students to learn about how farmers care for their cows, conserve their natural resources and how milk impacts the economy of the local community all while being on a local dairy farm? Then apply now for one of the 80 grants available to fund a field trip to a local dairy farm! Any classroom currently enrolled in the Discover Dairy program is eligible to apply, with 15 grants designated specifically for Pennsylvania classrooms, and 40 grants designated for Wisconsin classrooms. Funds from this grant can assist in covering the cost of busing, the farm tour itself, lunch, or even a dairy treat.
Selection is based on the number of students eligible to attend the tour and previous and future plans of dairy education in the classroom.
Important: We do not provide farm suggestions for a dairy farm to tour. You must contact the farm yourself and make the arrangements for the tour. We are only providing additional funds to help make the trip possible.
Farm Field Trip Grant Application 22-23
Please complete this form to apply for the Farm Field Trip Grant Program through Discover Dairy.
Applications will be accepted until February 1, 2023. Grant selection will be ongoing and based on the number of students attending, previous and future plans of dairy education in the classroom as well as a first-come, first-serve basis. Note that a minimum of 15 grants will be specifically dedicated to Pennsylvania, and 40 others are dedicated to Wisconsin classrooms due to fund sourcing.
Note: This application is to receive money for a farm field trip grant that is planned by the applicant. Discover Dairy staff does not plan the farm tour. Applications without a specified dairy farm to tour will not be considered for the grant.