A year-long experience in your classroom
Forget the guinea pig. How about adopting a 1,500-pound dairy cow for your classroom mascot? Don't worry about finding a pen big enough to hold her. The photos and stories we'll send you about her life on the farm will make her "come alive" for your students!
Important Adopt A Cow Program Details:
Registration for each academic year is from August 1 to October 15.
Once you complete and submit the enrollment form below, your classroom will be registered to Adopt a Cow.
No information will be sent out until the calves are born and registration is closed (by November).
Timeline of Events:
November: Introductory video (sent via email) and kit with details about the host farm and calf (sent via snail mail) are sent.
January: Update #2 is emailed.
March: Update #3 is emailed.
April/May: An opportunity to live chat your calf and host farm via YouTube.
What kind of information can I expect?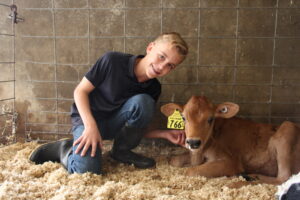 Throughout the program, you'll find out what her name is, when her birthday is, where she lives and how the farmer takes care of her. We'll also send photos of the cow, activity sheets for the students, a PowerPoint full of information and photos and a suggested lesson that follows Common CORE standards.
We encourage classes to fully engage in this program and even write letters to their calf and host farm family, not only to practice their writing skills but also to show their love for their calf. In the end, we keep you posted on her progress while you and your students enjoy the cuteness of your adorable calf. The Adopt A Cow Program is just one of many ways to Discover Dairy in your classroom!
See sample introductory packet.