Donate and Receive a Customized Ear Tag Keychain
Did you know a cow's ear tag helps dairy farmers identify the cow from the rest of the herd? The tags can include numbers, birthdates, or their names!
If you want a fun memory from this year's Adopt a Cow program, we have a limited amount of customized ear tag keychains available! With every $10.00 donation you make to Discover Dairy, you'll receive an adorable, customized ear tag keychain as a thank-you gift. Each tag will be yellow with the Discover Dairy calf on one side. You can customize the other side of your tag with your adopted calf's name in memory of your special classroom mascot. For every $10 donated, you will receive one ear tag.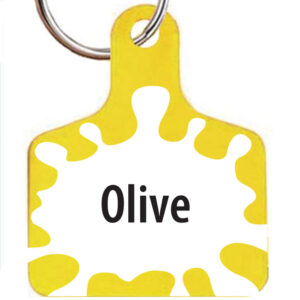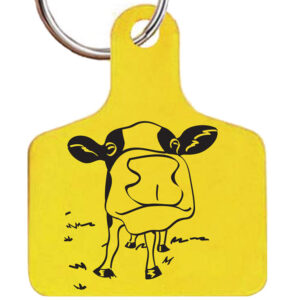 What are you supporting? Not only will you receive your customized keychain, but you will be supporting the growth of this program! Every $10 donation allows one classroom to participate in the Adopt a Cow program at no cost next year. Thanks in advance for your support!
What is the cut-off date? You must submit your ear tag donation from January 8-31, 2023 by filling out the form below. The order form will close on January 31 or when ear tag supplies run out.
You must make your donation by January 31 to receive the keychain.