Middle School Art Students Create Incredible Drawings of Cows and Dairy Farms
When Abby Hennington, a visual arts teacher at a middle school near Atlanta, Georgia, realized she was going to be following a hybrid teaching model this school year, she was looking for creative ways to uplift and motivate her art students, both in person and virtually. Abby teaches middle school students from a wide range of demographics, with several of her students living on working farms while others live in more metropolitan areas and have parents who commute to Atlanta each day.
After hearing about Discover Dairy's Adopt a Cow program, Abby signed up to 'adopt' a calf from a dairy farm. Her classroom was paired with a calf named Fiesta from Big Sandy Creek dairy farm. Throughout the program, she receives photos, video updates, and activity sheets that allow her art students to learn about dairy farming and watch their calf grow.
"I knew this year was going to be challenging in so many ways, and I was looking for fun and uplifting themes to start off our year. I've had both in-person students and distance learning students since August of 2020," Abby shared. "I thought the Adopt a Cow program sounded like a fun way to connect art with other common themes in our area. I was attracted to the idea of using this theme as an ongoing mascot of sorts this school year in my art program."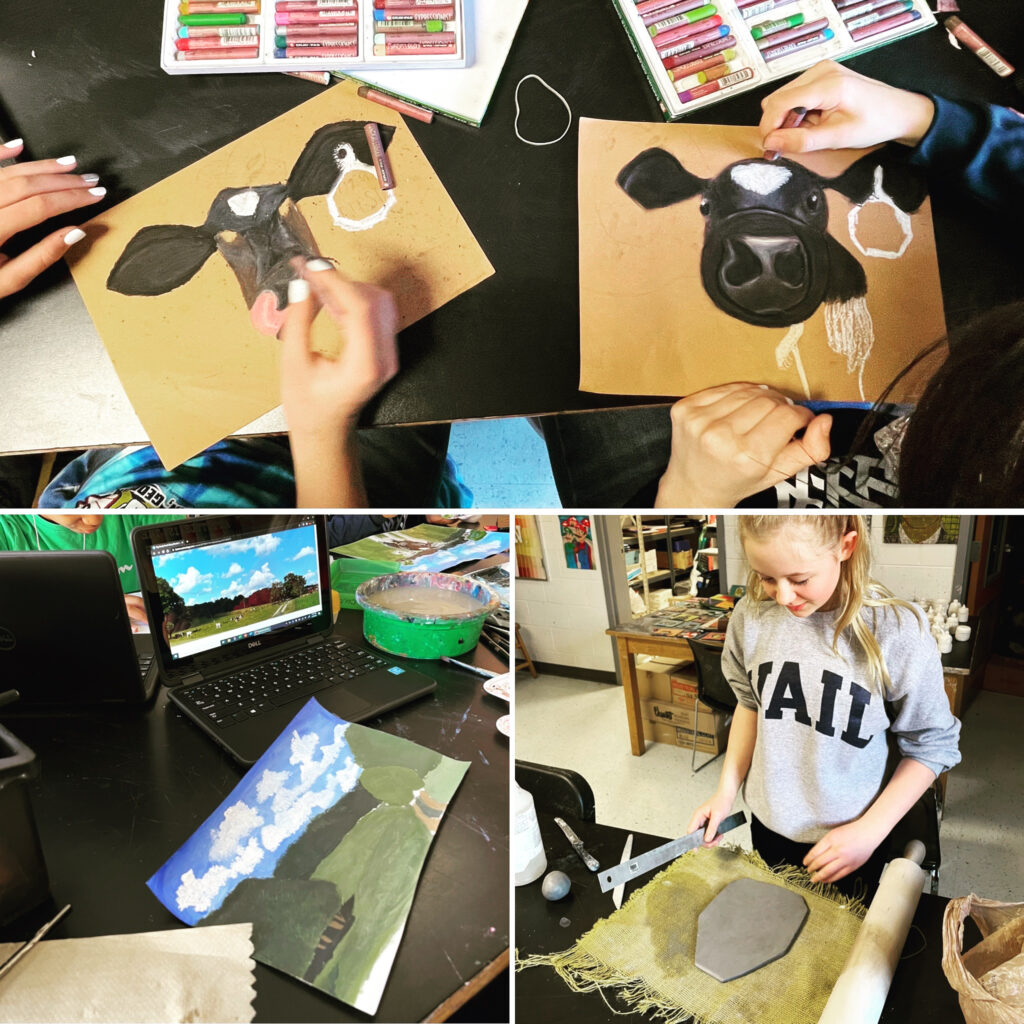 Her middle school art program is year-long with limited seats, so students must apply and be accepted. Due to strong interest, there is a wait list for all three grades. With visual arts being such a strong program in her school district, Abby has the time to devote to exposing students to different themes and ideas. Throughout the Adopt a Cow program, this gave her the freedom and flexibility to get extremely creative with the dairy-themed activities she organized for her students.
To start, two of Abby's students with the help of Booster parents planned an exciting gender reveal activity. Abby also assigned both focused projects and choice projects. Focused projects included timed drawings of their adopted calf to increase skill level and discuss the musculature of the cows. Students also studied landscape and learned about the different areas, equipment, and living quarters of the cows, which eventually turned into multimedia paintings.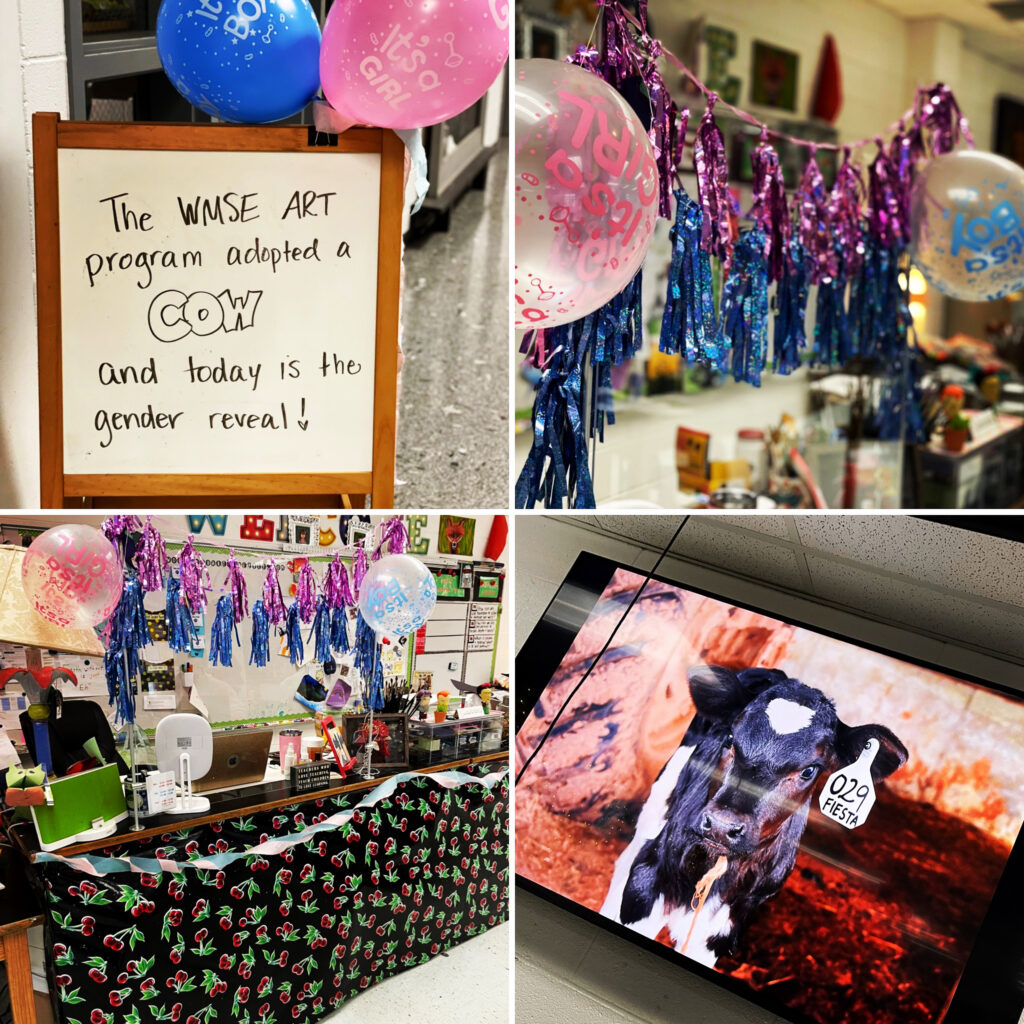 For the choice projects, Abby gave students a theme and allowed them to use any supply they wanted to make an art piece on that theme. These projects led to clay cow sculptures, carvings of silos, comic strips of Fiesta, charcoal drawings, and more. As they finish these projects throughout the year, an entire area of their art show is dedicated to the classroom's partnership with Discover Dairy and their host farm, Big Sandy Creek Dairy Farm.
By introducing her students to some of the scientific parts of agriculture and combining them with different art techniques, Abby has been able to make meaningful STEM connections.
"Our school is STEM-certified through our county and currently working toward STEM certification through our state. I love to connect art to other areas of study and show my students how many career paths can be creative and art-based," Abby said. "At this age, students still think artists have to be painters who have their artwork in galleries. We talk about how that's a great goal, but there are many other ways that we celebrate and use art in our daily lives and careers."
During these STEM connections, students learned about logos, such as the Discover Dairy logo, and how and why they are important. They also learned about the skeletal and muscle system of humans and animals, including their adopted calf. Abby says "connecting art to other disciplines helps to strengthen their education in both subjects and often helps certain standards stick."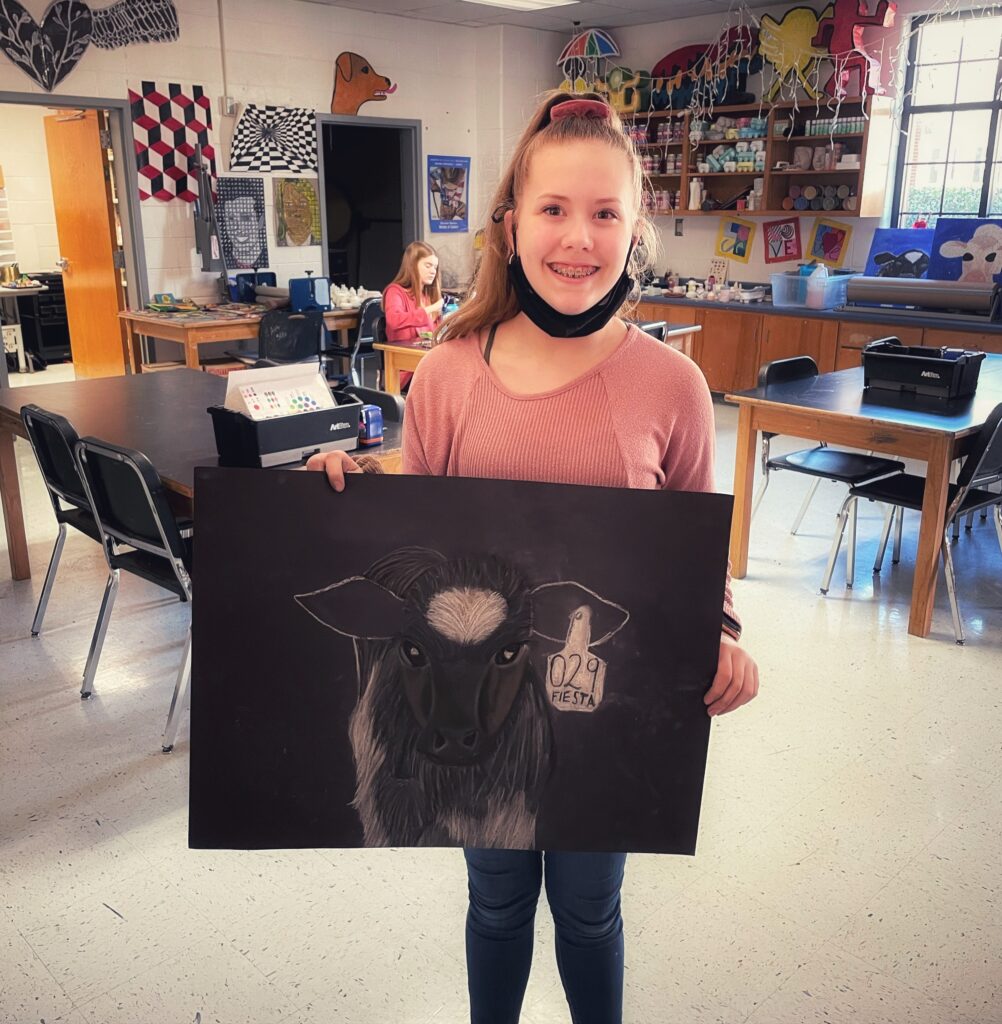 Beyond academics, Abby says the Adopt a Cow program has also allowed her middle school students to connect with dairy farmers in their community.
"This partnership helped us celebrate our rural location and learn more about our community. It was great to include my distance learners as well, and the calf photo and video updates that we received were very easy to share digitally. We have thoroughly enjoyed this program and continue to do so. We will even have a page about it in our yearbook this year," Abby added.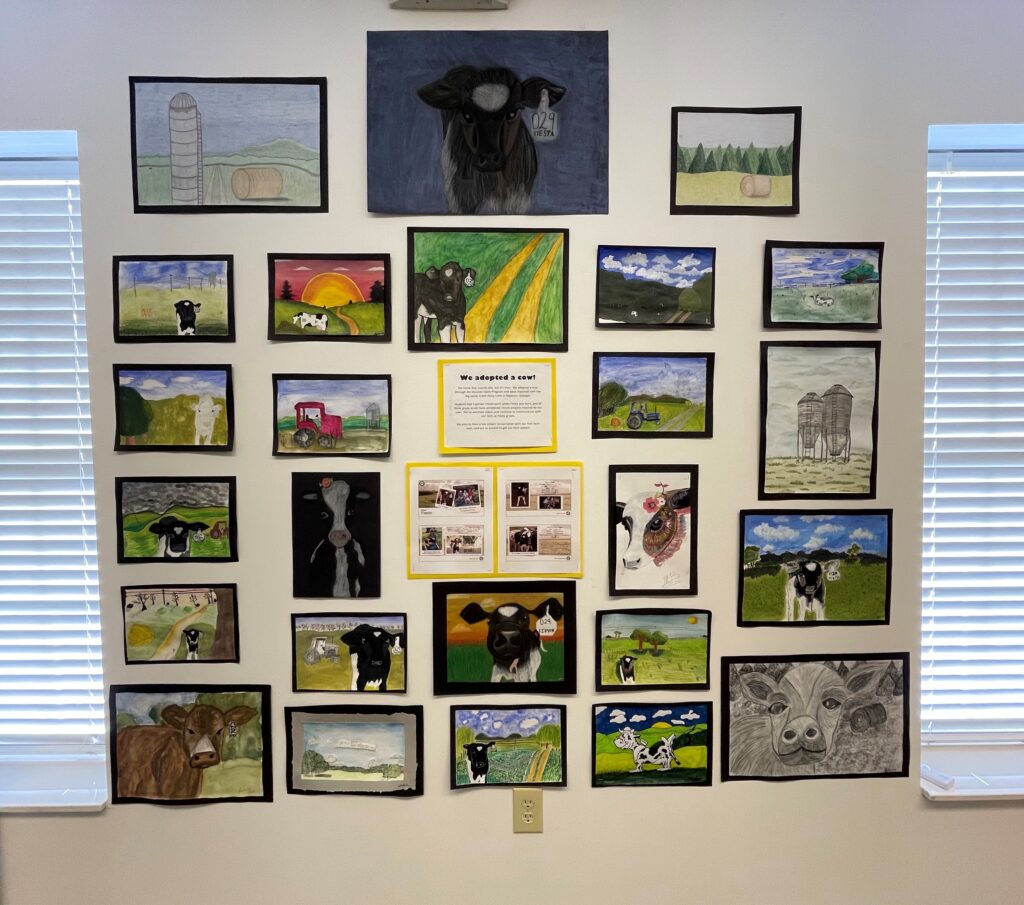 ---
Discover Dairy's Adopt a Cow program gives students and families a firsthand look at dairy farming. For the 2020-21 school year, more than 70,000 classrooms and homes have signed up for the program, and it is expected to impact more than 1.5 million students across the nation.
Discover Dairy is an educational series managed by the Center for Dairy Excellence Foundation of Pennsylvania in partnership with American Dairy Association North East, Dairy Farmers of Wisconsin, Midwest Dairy, and The Dairy Alliance.