Adopt a Cow Program Gives Elementary Students a Firsthand Look at School Nutrition
When Apache Smothers, an elementary school lunch-room manager in Rainbow City, Alabama, heard about Discover Dairy's Adopt a Cow program, she knew it could help her teach students about school nutrition and build connections with the dairy farms in her community.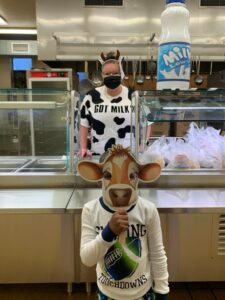 "I have been celebrating World School Milk Day for years. I thought adopting a cow would be the perfect addition to World School Milk Day on September 29," Smothers shared.
After signing up for the program, she was paired with a calf from a dairy farm and receives regular photos, video updates, and activity sheets that she shares with the pre-k through fifth grade students at John S. Jones Elementary School. Not only have students been able to learn about dairy farming and watch their calf grow, Smothers has also worked with the elementary teachers and cafeteria staff to plan fun-filled activities for the school community.
The staff made the initial announcement about their adopted calf on September 29th during World School Milk Day. With fun costumes, cow trivia, and educational activities in the classroom, teachers and staff helped introduce the elementary students to agriculture and dairy farming practices. Once the introduction was made and students' excitement was at an all-time high, Apache began planning a gender reveal party that involved the entire community.
"We have tons of excitement. We asked the local fire department to help us do the gender reveal, and the mayor was here," Smothers said. "We all love the program so much that it reflects out into the community. The community is really involved in everything, and they are really great people."
After the gender reveal celebration, Smothers has continued to send calf updates and dairy-themed lessons to each teacher so the entire school can stay connected to their journey with the adopted calf. Many parents have also expressed their appreciation for the program.
"We have a student who can't drink milk and is on a pureed diet. Their parents came to the school with a thank-you note and said how the program has been making the child's day better," Smothers shared. "Even though he can't drink milk, seeing the cow has excited him so much. He had never seen a dairy cow before [this program]."
For dairy farmers who participate in the Adopt a Cow program, interacting with students, parents, teachers and cafeteria staff has allowed them to share their story and provide the community with a firsthand look at where their milk comes from.
"My favorite part so far is seeing the one teacher I know who has one of my calves post about the program and share where her students think their milk comes from. I obviously have a lot of work to do because they think it comes from the grocery store," said Veronica Steer, a dairy farmer from Sunbow Jerseys in Tennessee, who is serving as a host farm during this year's program.
For Smothers, the Adopt a Cow program is also an exciting way to educate students and families on nutrition in the school cafeteria. After getting involved in the Fuel Up to Play 60 program – a program that helps lead youth wellness programs and empowers students, parents and educators to build healthier communities— Smothers learned about milk intake and the different nutrients in a glass of milk. Her goal with the Adopt a Cow program is to teach her students where their milk comes from and how it benefits their bodies and minds.
"Our kids drink about 6,400 ounces of milk a day. To me, that's pretty impressive," she added. "For a child to know where it comes from, that makes them appreciate it and teaches them the importance of drinking milk. I've had a lot of support at my school to make this all happen, and we plan on doing many more activities."
---
Discover Dairy's Adopt a Cow program gives students and families a firsthand look at dairy farming. Over the last two years, it has impacted more than 800,000 students across the globe.
Discover Dairy is an educational series managed by the Center for Dairy Excellence Foundation of Pennsylvania in partnership with American Dairy Association Northeast, American Dairy Association Indiana, Midwest Dairy, The Dairy Alliance, Dairy Farmers of Wisconsin, Dairy Management West, New England Dairy, Dairy Farmers of Washington, American Dairy Association Mideast, Dairy Council of Florida, and United Dairy Industry of Michigan.