Kindergarten Students' Creativity Shines Through Adopt a Cow Program
When Kelley Campbell, a kindergarten teacher in Surprise, Arizona, signed up for Discover Dairy's Adopt a Cow program, she didn't expect their calf, Georgie, to bring so much creativity and excitement to her classroom. While her students have some exposure to dairy farms in their community, most have not grown up a farm.
"I didn't know what to expect when I signed up. I didn't realize the amount of information, as far as lessons, that would be included. It has been a fun experience," she shared. "Now that I know what the program provides, I'll be able to integrate it a lot more in my classroom next year. I definitely plan to do the program again."
Kelley and her kindergarten students adopted Georgie from Stoltz Dairy, which is located about an hour and a half from their school. Having that local connection excited her students, and one child even suggested creating a "Georgie's Corner" on their bulletin board. Kelley uses the corner as a space to share photos and information about Georgie's growth that she received through regular photo and video updates throughout the school year.
"When they walk by, students like to have conversations about how they think she's doing and how big she's gotten," Kelley added.
Throughout the year, Kelley has assigned several art activities, including drawings and coloring sheets centered around Georgie and the different parts of a cow. She also assigned a guided, directed writing assignment to build more connections to agriculture and planned special activities for National Milk Day.
"Another colleague had cow pencils that she gave me, and one morning, I put them out for students with a note from Georgie. They were so excited. Some students still have that pencil [to this day]. It's really special to them," Kelley shared. "If I'm excited about it, they get excited about it. A lot of it has to do with the community, and our classroom family, that we've built in here."
One of the most memorable parts of the program was getting able to see Georgie and her host farm family during a live virtual chat hosted by Discover Dairy. Students had the opportunity to watch Georgie through a live video and ask questions about her life on the farm.
"Georgie's personality has shined through the photos and updates we've gotten, but during the live chat, we really saw how much she loved the camera. It was so neat for the kids to see her live."
The live chat also strengthened students' understanding of where their milk comes from and the impact the farm is making on their local community.
"We definitely learned information about how the milk in their fridge likely came from that dairy farm. When we heard their farm's milk goes to a local grocery store, the students really thought that was neat to know they could open their fridge and possibly be drinking milk from that farm."
Thanks to the memories and lessons learned through this year's program, Kelley plans to join the Adopt a Cow community again next school year and integrate the program with science and social studies standards for kindergarten.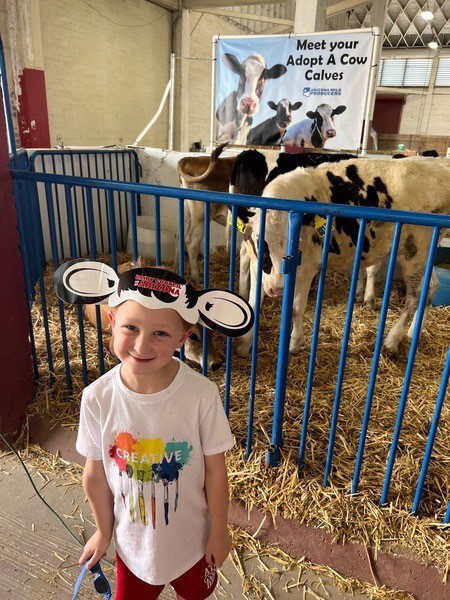 ---
Discover Dairy's Adopt a Cow program gives students and families a firsthand look at dairy farming. Over the last two years, it has impacted more than 800,000 students across the globe.
Discover Dairy is an educational series managed by the Center for Dairy Excellence Foundation of Pennsylvania in partnership with American Dairy Association Northeast, American Dairy Association Indiana, Midwest Dairy, The Dairy Alliance, Dairy Farmers of Wisconsin, Dairy Management West, New England Dairy, Dairy Farmers of Washington, American Dairy Association Mideast, Dairy Council of Florida, and United Dairy Industry of Michigan.