Adopt a Cow Program Helps Pre-School Students Make Early Connections to Agriculture and Environment
In De Pere, Wisconsin, Jayne Black is showing her pre-school students how agriculture connects to so many different parts of their lives. With a personal interest in the environment and "turning schools green," Jayne works to help her students become green leaders and find ways to make schools more sustainable. When she heard about Discover Dairy's Adopt a Cow program, she thought it was a natural way to expand on some of the lessons about nature and the environmental literacy she was already teaching her students – who range from 4-6 years old.
With her students being excited about agriculture after taking a field trip to a farm last year, Jayne hoped the Adopt a Cow program could help her dive deeper.
"Those field trips are great, but they don't really get into the nitty gritty of how important of a role our environment plays in a cow's life," she shared. "I thought this was such a cool program because my kids were really interested in the farm [when we visited]."
After signing up for the free Adopt a Cow program, her classroom "adopted" Ruby from Vision Aire Farms, LLC, a dairy farm in their home state of Wisconsin.  They receive regular photos, video updates, lesson ideas and other activities throughout the year to give students in-depth exposure to the world of dairy farming and the important role of a dairy farmer.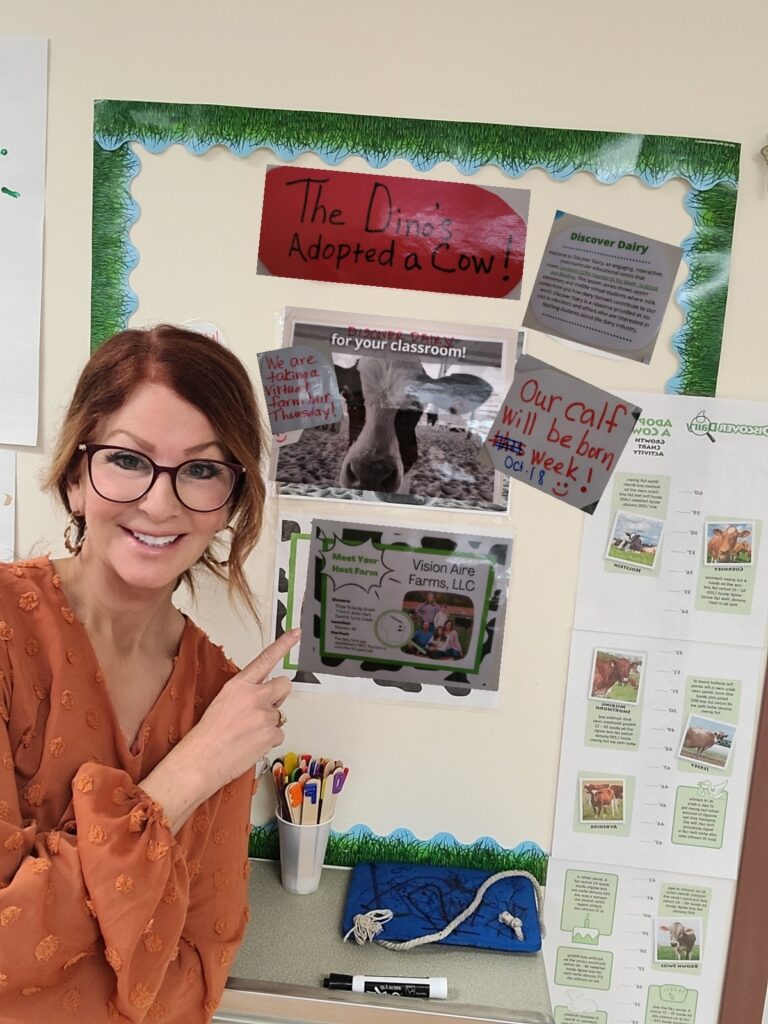 "Most of my kids definitely don't live on a farm. They're from more urban and upper-class environments," Jayne said. "That's why I felt it was really important to have this experience so they can appreciate agriculture at this young age and connect to it."
So far, Jayne and her students have constructed their own barn for the classroom, filled with a plastic cow, Ruby, who wears a personalized collar. She also utilized the growth chart, a free resource provided through the Adopt a Cow program, to help students measure their adopted calf's growth and compare it to their own heights.
"Through the curriculum I've taught them, they are already very engaged with nature and animals. They were really excited to find out what their calf's name was," Jayne said. "I also used the growth chart so they could see how big Ruby was versus how tall they are. They're really able to grasp that she is growing, and that's something they can relate to."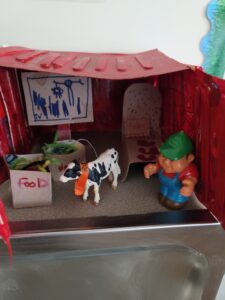 They have also watched a virtual farm tour and engaged in creative art activities such as making cow handprints. With each handprint being so different, Jayne was able to make real-world connections that way, too.
"We talked about how every cow is different. Ruby looks this way, but everyone is an individual. Even if we look the same, we're still different," she added.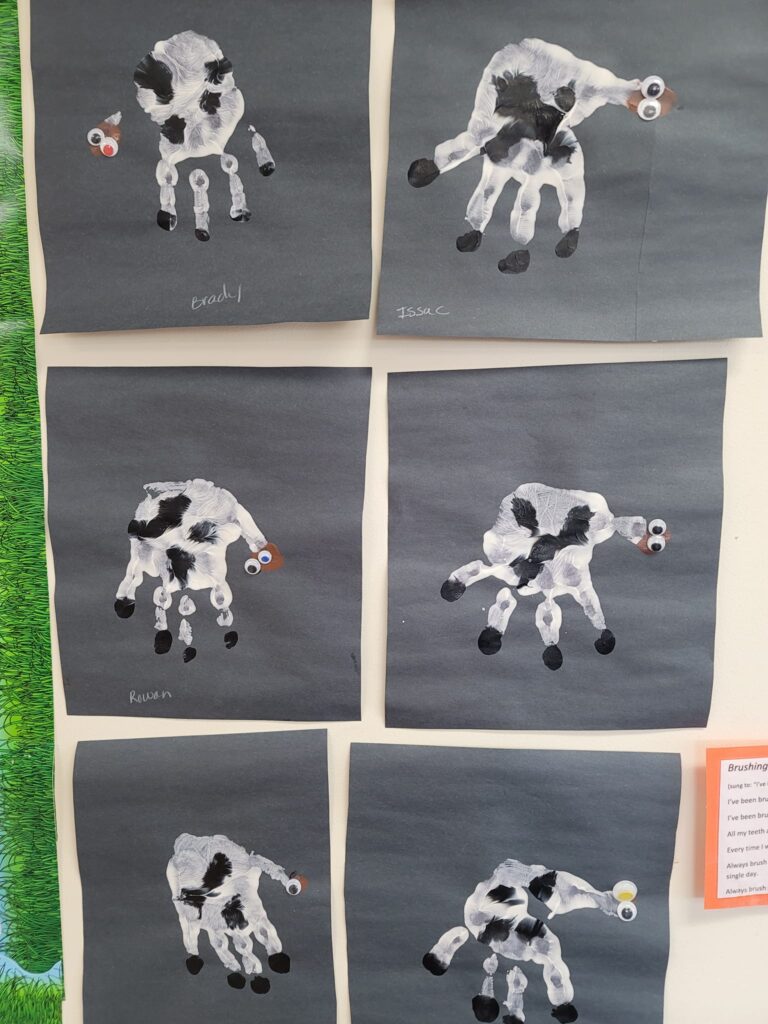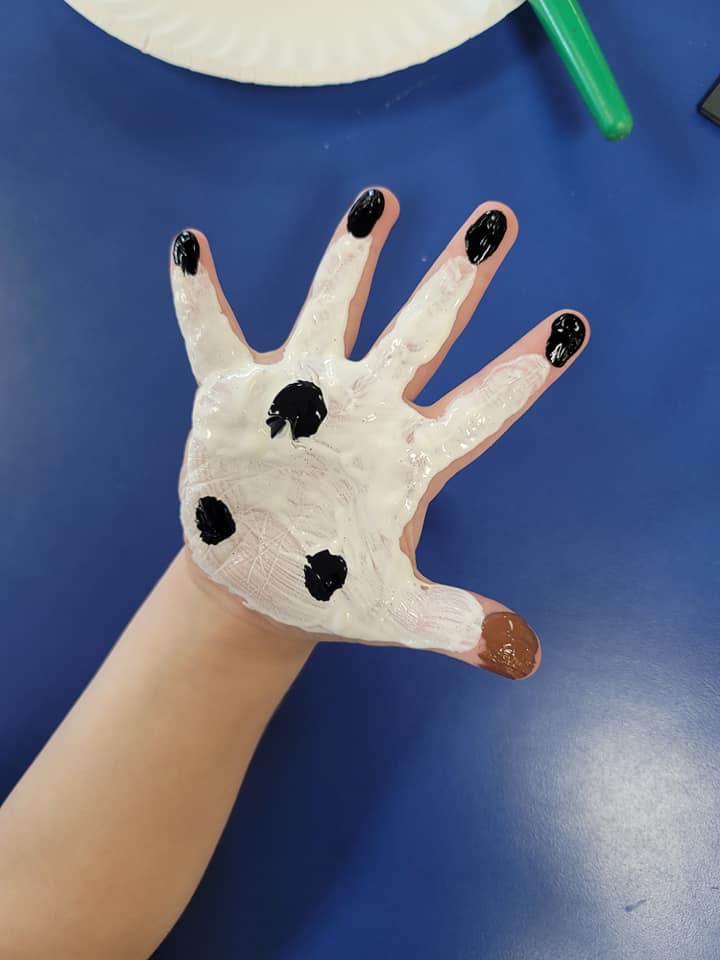 With her passion for environmental literacy, the Adopt a Cow program has allowed Jayne to introduce some of those concepts to her students and share how dairy farming plays an important role in sustainability.
"They can definitely relate to the fact that water is so important and food is so important to taking care of cows. The farmer who is taking care of the cows is also important. It's really setting a solid foundation for all that it takes to care for these animals. It's really growing that appreciation," Jayne explained. "I talk to the kids a lot about how we share the air that we breathe and how that's important for cows, too. They need fresh, clean air and places to roam. I think they're really getting the bigger picture."
For Jayne's students, the Adopt a Cow program has given them some ownership and engagement with a world they are learning about for the very first time.
"The visuals of the calf, and the way the program helps students feel ownership over it, it's really powerful," she added.
---
Discover Dairy is an educational series managed by the Center for Dairy Excellence Foundation of Pennsylvania in partnership with American Dairy Association Northeast, American Dairy Association Indiana, Midwest Dairy, The Dairy Alliance, Dairy Farmers of Wisconsin, Dairy Council of Arizona and Nevada, Dairy West, New England Dairy, Dairy Farmers of Washington, American Dairy Association Mideast, Dairy Council of Florida, United Dairy Industry of Michigan, and Maine Dairy and Nutrition Council.