First-Grade Teacher Builds Community Connections and Strong Citizens with Adopt a Cow Program
Anna Breitbach, a first-grade teacher in South Florida, is in her first year of teaching at a Science, Technology, Engineering and Math (STEM) school. To bring some excitement to her classroom and help students build connections with their community, she signed up for Discover Dairy's Adopt a Cow program after finding a video from another teacher sharing highlights from the program.
"I actually found out about Adopt a Cow last school year on TikTok. Another teacher made a whole video about the program. When I saw that was an opportunity I could do with my kids, I immediately signed up for it as soon as I saw the video," Anna shared.
After hearing stories from her mother who grew up on a farm in Europe, Anna has always been intrigued by the world of agriculture. However, living and teaching in a suburban/urban area of Florida means her classroom is farther removed from agriculture and dairy farming.
"We live in an equestrian area, so some of our kids are familiar with horses but they're not really experienced with what a farm truly is," Anna explained. "They've never seen these kind of things before, so they are instantly drawn to them. They want to know more about the animals, and they love seeing the videos."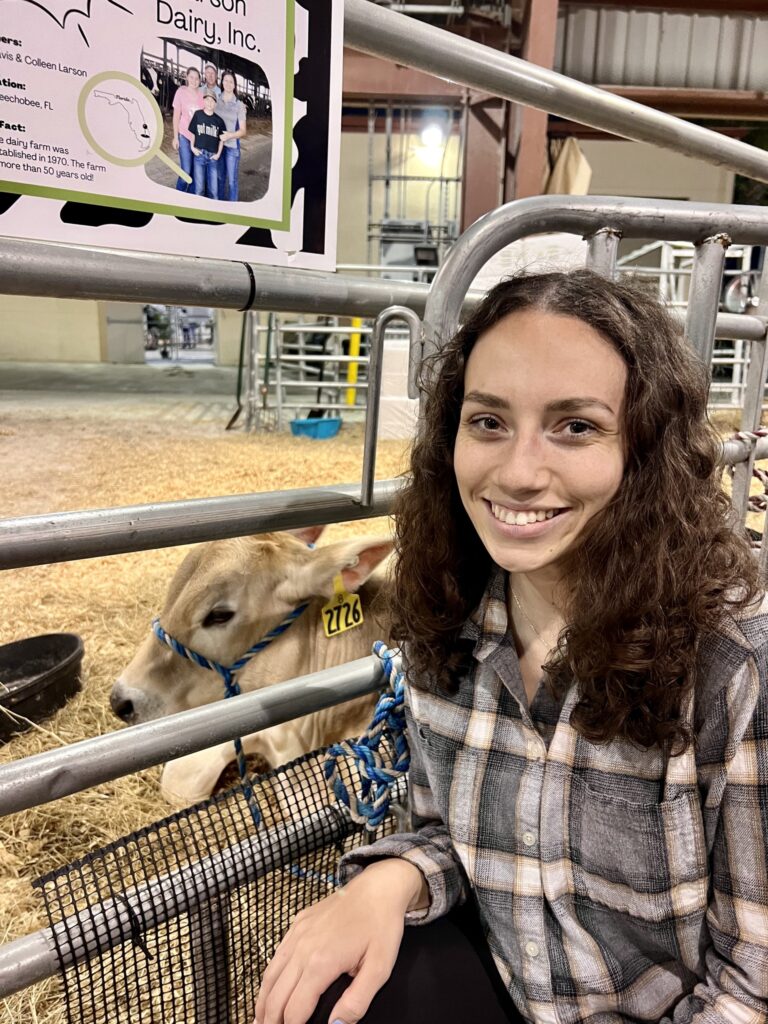 After signing up for the free Adopt a Cow program, her classroom "adopted" a calf from a Florida dairy farm and receive regular photos, video updates, lesson ideas and other activities throughout the year. Especially at a STEM school where Anna works to make science connections and teach students what good citizenship means, the Adopt a Cow program has helped her first-graders make:
Social studies connections. During a social studies lesson, Anna's first-grade students were learning about suburban, urban and rural areas.

"They were making a poster about the different areas, and they were so excited to use their adopted calf, Glenda, as an example of a rural area. It was a great connection they were able to make. I didn't even expect it."
STEM and science connections. Every Friday, students participate in a STEM activity at her school. The Adopt a Cow program and its resources, including a growth chart, has helped reinforce some of these STEM concepts.

"Every couple of Fridays, our STEM activity will be something involving our adopted calf. We might watch the videos you provide us, do a little activity about it, or go over the update about our adopted calf. I've been using the program as a science perspective in the classroom," Anna added. "I have the growth chart where we log the height of our calf and the kids can compare their heights to the cow's height. It has been really interesting having something physical to compare to, since we can't actually visit the calf."
Community connections. Since her students aren't exposed to dairy farming in their immediate area, Anna says the Adopt a Cow program has helped them widen their perspective about other parts of the country and learn important lessons about community and citizenship.

"I think it's very important for students to understand their communities. Everyone says school is meant to teach children how to be citizens. In order to be a good citizen in your country, you need to know the backbone of it – not just where you live, but all the different aspects of our country," she said. " There are people who work every day taking care of animals and producing our food. It's important to know that, so you can appreciate what you have."
To bring the program full circle, Anna and her students had the unique opportunity to meet their adopted calf at the South Florida Fair. Not every host farm in the program participates in this type of meet-and-greet event, but these first-graders were lucky enough to meet their adopted calf at the fair.
"A month later, the students are still talking about that. I even went. It was a surreal moment. We've been learning all about this cow and the process, and then we actually got to see her," Anna added.
After using the Adopt a Cow program for most of the school year, Anna says it is bringing dairy farming to life for her students and increasing their understanding of food production when they visit the grocery store.
"I would encourage other teachers to take advantage of all the Adopt a Cow resources, because it's free to us as teachers. The program makes such great connections," Anna shared. "Students learn to appreciate where their food comes from and are able to put a 'face' to the milk at the grocery store. It's giving kids those opportunities to connect what they're learning in school to what's actually going on in the community."
---
Discover Dairy is an educational series managed by the Center for Dairy Excellence Foundation of Pennsylvania in partnership with American Dairy Association Northeast, American Dairy Association Indiana, Midwest Dairy, The Dairy Alliance, Dairy Farmers of Wisconsin, Dairy Council of Arizona and Nevada, Dairy West, New England Dairy, Dairy Farmers of Washington, American Dairy Association Mideast, Dairy Council of Florida, United Dairy Industry of Michigan, and Maine Dairy and Nutrition Council.