Indiana Music Teacher Finds Harmony Between Agriculture and Music
Agriculture and music might not seem like they go together, but Michael Klinger, a high school band and choir teacher in south central Indiana, was able to show his students the two worlds have more in common than they might think. Michael signed up his Indiana music department for Discover Dairy's Adopt a Cow program last school year and introduced the program to his sixth through 12th grade students at their fall concert.
"I did some research and found out the Adopt a Cow program is for students K-12. I wondered what would happen if we signed up as a music department, so we did," he shared. "I announced it at our fall concert as a fun extra thing for us. Most of the kids were really excited. They wanted to see pictures of how the calf was doing and how she was continuing to grow."
After signing up for the free Adopt a Cow program, Michael's music department "adopted" a calf from an Indiana dairy farm and received regular photos, video updates, lesson ideas and other activities throughout the year. After announcing their adopted calf, Darcy, at the fall concert, he devoted one of the bulletin boards in the music room to share photos and information about the calf throughout the year.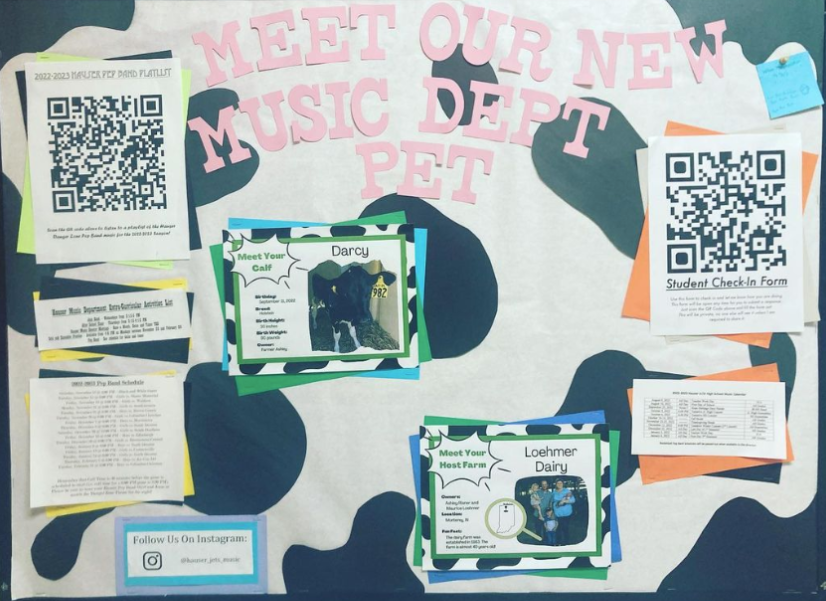 Living in a rural area, many of Michael's students are involved in agriculture. One of his goals was to find common ground with his students and show how the two worlds intersect.
"The school I'm at is in a rural area, and a lot of kids are involved in agriculture. We can talk about how music impacts animals as well. Growing up, I showed pigs and we always left the radio on so they wouldn't get distracted by other things," he added.
Both agriculture and band/choir have very close-knit communities. Michael worked to build that community between both areas through some creative activities throughout the school year.
In his Music Theory class, they used their adopted calf as inspiration and tried to incorporate agriculture themes into the song-writing aspect of the course. The Adopt a Cow program also gives students opportunities to participate in live video chats with dairy farmers, so Michael encouraged his students to ask the dairy farmers if they had any connections with music when caring for their animals or completing tasks on the farm.
Ultimately, Michael says the Adopt a Cow program helped him make larger connections to the community – and the role the next generation has in taking care of the world.
"I think it's important for kids to understand where their food comes from, because a lot of them do think it comes from the grocery store. This could introduce them to the world of agriculture," he added. "Without farmers, we really have nothing. They grow, build and maintain everything for us. Just like we need future musicians to have more music, we need future farmers to continue to feed and take care of the world."
---
Discover Dairy is an educational series managed by the Center for Dairy Excellence Foundation of Pennsylvania in partnership with American Dairy Association Northeast, American Dairy Association Indiana, Midwest Dairy, The Dairy Alliance, Dairy Farmers of Wisconsin, Dairy Council of Arizona and Nevada, Dairy West, New England Dairy, Dairy Farmers of Washington, American Dairy Association Mideast, Dairy Council of Florida, United Dairy Industry of Michigan, Maine Dairy and Nutrition Council, and Oregon Dairy and Nutrition Council.