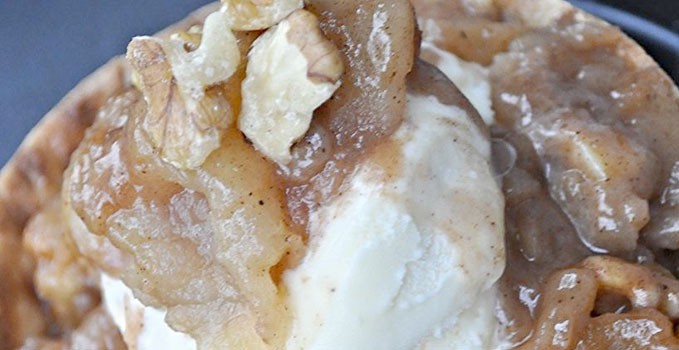 This week, we have a delicious Apple Pie Sundae recipe for you. In addition to pumpkin pie, apple pie is often a staple at the Thanksgiving dessert table. Why not try something a little different with this sundae? Make sure to use real butter and enjoy it with your favorite vanilla ice cream. 
Ingredients
 – 4 large apples, cored, peeled and sliced into 1/4 in. slices
 – ¼ cup butter
 – ½ cup chopped walnuts, a few reserved for garnish
 – ¼ cup packed brown sugar
 – 1 tsp lemon juice
 – ½ cup apple cider
 – 1 tbsp cornstarch
 – 1 tsp ground cinnamon
 – ⅛ tsp ground nutmeg
–  ⅛ tsp allspice
 – Vanilla Ice Cream
 – Waffle bowls

Directions
1. Melt butter in a large skillet over low heat.
2. Add apples in a single layer.
3. Sprinkle with lemon juice, brown sugar and spices.
4. Stir to coat.
5. Cover and simmer on low until tender, about 10 minutes.
6. Remove apples with a slotted spoon.
7. In a small bowl, combine apple cider and cornstarch. Whisk well.
8. Pour into skillet with drippings from apples.
9. Increase heat to medium.
10. Whisk continuously until thickened.
11. Combine apples, sauce and walnuts in a large bowl. Stir gently to combine.
12. Allow to cool slightly. Scoop ice cream into waffle bowls, spoon apple mixture over top. Add a few walnuts to top.