Thanksgiving Butter Board Recipe
This Thanksgiving Butter Board with Cacio e Pepe flavor is perfect for your holiday festivities with toasty bread, fresh herbs, and creamy parmesan cheese.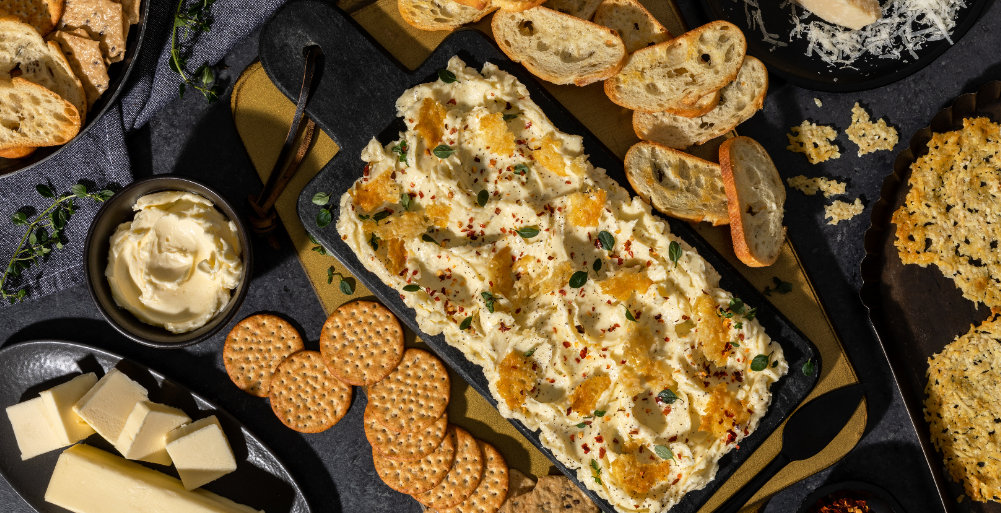 Ingredients:
For Butter:
2 cups (4 sticks) unsalted butter
1/2 cup grated Parmesan cheese
2 teaspoons freshly ground black pepper
1 1/2 teaspoons kosher salt
For Parmesan crisps and assembly:
1/2 cup shredded Parmesan cheese
1 tablespoon fresh thyme sprigs
1 teaspoon crushed red pepper flakes
Freshly ground black pepper, for garnish
1/2 baguette, cut into 1/4-inch thick slices, toasted
Assorted crackers, for serving
Directions:
For butter: Using a hand mixer, beat butter, parmesan, pepper and salt together until smooth.Set aside.
For Parmesan crisps and assembly: Preheat oven to 400°F and line 2 rimmed baking sheet with parchment paper. Spoon 2 tablespoons of cheese 2 inches apart on prepared baking sheets. Spread each mound to a 2-inch diameter. Bake until light golden brown and crisp, about 6 to 8 minutes. Let cool at room temperature before removing. Break crisps into large shards.
Spread butter decoratively on wooden serving board. Top with Parmesan crisps, thyme, crushed red pepper flakes and pepper. Serve with toasted bread and crackers.