Author:
info@discoverdairy.com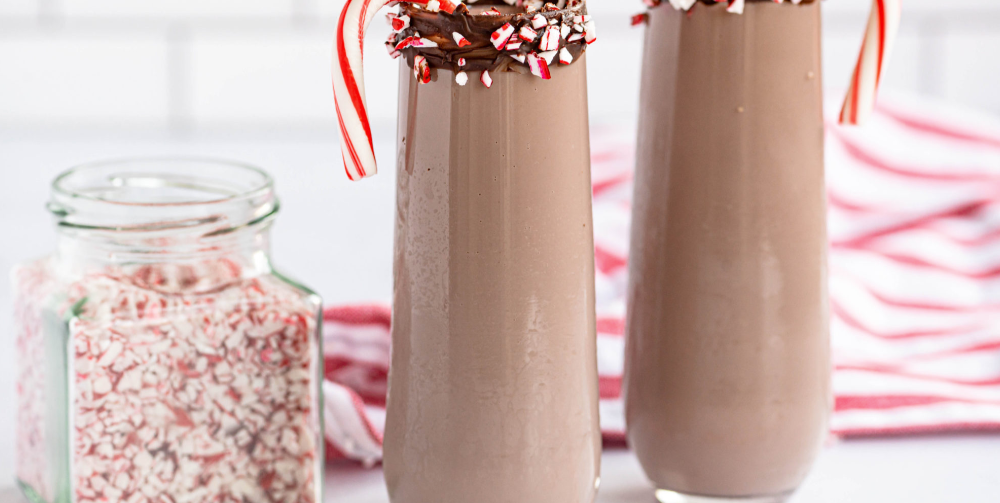 This week, we have an easy Chocolate Candy Cane Milk recipe you can try with your students. The recipe seamlessly blends the rich allure of chocolate with the refreshing zing of a candy cane to create a drink that's as indulgent as it is festive.
Ingredients (Milk) 
– 2 cups milk
– 2 tablespoons chocolate syrup
– 1/2 teaspoon peppermint extract  

Ingredients (Garnish)
– 4 (3-inch) peppermint candy canes, divided
– 2 tablespoons milk or semi-sweet chocolate chips
– 1 teaspoon milk

Directions
1. Using a pitcher, bowl, or container with a pour spout, combine milk, chocolate syrup and peppermint extract. Whisk or stir with a spoon until mixed.
2. Store covered in the refrigerator until ready to serve.
3. For the garnish, place two candy canes in a resealable plastic bag (or use one 6-inch candy cane) . Using a rolling pin or the bottom of a plastic cup, crush candy cane into small pieces. Pour crushed candy cane into a small shallow bowl.
4. In a separate bowl, combine chocolate chips and milk, microwave on high for 20 seconds. Stir melted chocolate until smooth (microwave for 10 more second if there's still chocolate lumps).
5. For each serving, turn an 8-ounce drinking glass upside down and dip the rim first into the melted chocolate, then into the crushed candy cane. Place glasses in freezer for five minutes, then store in the refrigerator until serving time.
6. To serve, stir flavored milk mixture if it has been stored for more than five minutes. Divide mixture evenly between the two garnished glasses. Place one candy cane into each glass for stirring and enjoy.